iBeacon Software Developers – Brisbane – Sunshine Coast – Gold Coast
Smarterapps can facilitate design, development and supply of "iBeacon" technology. 
Custom iBeacon Applications
At Smarterapps we are at the leading edge of iBeacon development in Australia, we have a wealth of experience developing mobile applications, cloud applications and commercial iBeacon solutions for enterprise.
iBeacon or micro location technology has applications in retail, "Smart City" HR, medical, education and many other verticals. Contact us today for a consultation, we can audit your business processes and identify key areas that can be improved using beacon technology.
Beacon use cases include examples like museums, sporting facilities, large buildings (navigation) Hospitals make for a good example of how effective beacon tech can be – the example we have shown uses iBeacon to help visitors navigate around a hospital using their phones.  
We have also developed and deployed a system that tracks  beacons attached to assets, as the assets move between locations our cloud system logs the data and reports on movements and inventory. This system we provide to our clients in a white label format and can be customised to a range of different applications.
Our "Beacon Cloud" can be adapted to track any type of beacon, the system is well suited to outdoor applications with several types of long life and rugged waterproof options available. Each system we deploy is unique based on the unique requirements of the client, mobile apps, gatewaysz and the full project scope is taken into account. 
We supply a full suite of beacon technology solutions, indoor and outdoor beacons, beacon name tags, long life (3 year) waterproof beacons. Beacon gateway modules / signal readers. Bespoke beacon development and mobile solutions for custom applications.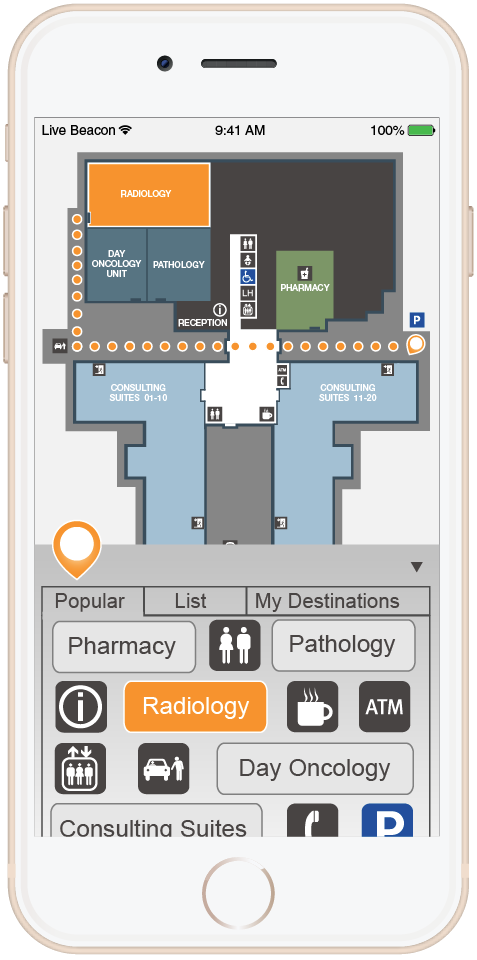 Contact Us About iBeacon Technology Today
Hit the contact form below